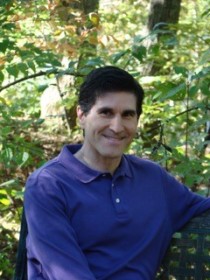 Dr. Rick Seidel is a clinical psychologist with more than 30 years of experience. His primary interest is providing effective and efficient psychotherapy and health coaching for adults. For nearly two decades he has applied the principles of esteem dynamics to integrate evolutionary science with clinical practice.
Rick completed his undergraduate studies at Duke University, graduating summa cum laude and Phi Beta Kappa. He took a year off to do volunteer work at a mental health center by day and wait tables by night. His time away from academia resulted in a decision to attend graduate school in clinical psychology at the University of Virginia. He studied the application of clinical principles to help people improve their lives, taking every intervention class available, but left school with a sense that none of these models worked well.
Rick completed his internship at the Palo Alto VA Medical Center in California followed by a fellowship in substance abuse treatment at the same facility. The National Center for PTSD hired him to create and oversee the first inpatient program in the country for veterans with both psychological and alcohol problems. The success of the program led to the VA funding half a dozen more treatment programs of the same type. Three years later, Rick returned to Virginia, where he became the Director of Clinical Programs for behavioral health for Carilion Health System. He also has a certification in plant-based nutrition from the T. Colin Campbell Center for Nutrition Studies
In the early 2000s, Rick began working with the Chronic Disease Self-Management Program at Stanford University, and eventually became one of the first trainers of Master trainers for that program. More recently, he assisted in the development of the Cancer Thriving and Surviving program (CTS), a self-management program specifically designed for cancer survivors. For more than a decade, Rick provided trainings in CTS to various groups across the country and online.
In 2003, Rick began learning about esteem dynamics from Dr. Doug Lisle, a friend and colleague from his days at UVA. This new method offered Rick a model of care that was comprehensive and more helpful to his clients. He began to focus more at Carilion on psychotherapy and coaching. Today, he helps clients make lifestyle changes such as escaping the dietary "pleasure trap," learning to conquer the "ego trap," decreasing stress and anxiety, and dealing with grief and loss. He uses a variety of techniques to address job, family, and spousal conflicts as well.
In his spare time, Rick enjoys traveling with his family. He is also a sports broadcaster and has done play-by-play for more than a dozen NCAA Division II and III national championships. He is an avid Duke basketball fanatic and is currently studying tai chi to improve his own meditative practice.