To my Colleagues, Patients and Friends at TrueNorth,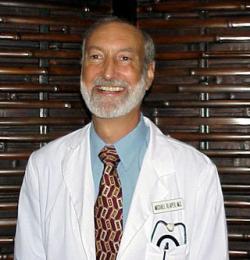 As I enter my ninth year on the TrueNorth Health Center clinical staff, I feel blessed to have practiced the most rewarding medicine of my career here at this remarkable clinic. I am humbled to have witnessed over the years skilled clinicians, determined patients, and dedicated support staff create dramatic recoveries from fearsome, even life-threatening diseases. The clinical experience gained here has revealed to me some of the most powerful keys to human healing known to medicine. (Hint: "It's the food!")
Yet, as much as I enjoy primary care medical practice, I have reached a point in my life where I know that my time and energies would be far better utilized helping the medical profession evolve to become one that recognizes and employs the healing power of plant-based nutrition. I now want to devote my full-time efforts to creating courses for doctors on incorporating plant-based nutrition into their own practices, to writing a book on plant-based healing, lecturing in medical schools, teaching medical students, and producing webinars for the public on raising healthy children, optimizing athletic performance, and aging healthfully, among many other subjects. These major projects will require large amounts of time and focus to do properly. The reality is I simply cannot give them the space and energy they deserve while conducting a primary care medical practice. It has become clear that trying to do so is neither fair to my patients nor my projects, nor to TrueNorth. Consequently, after forty-six years of primary care practice, I will be closing my clinical practice December 31st, 2017 to focus on these education-based projects.
I am eagerly anticipating this new chapter of my life, filled with full-time research, travel, writing, recording, and teaching. Each one is an activity that brings joy to my heart and which will be part of my contribution to a saner, healthier and more loving world - as well as helping to create a more effective, compassionate and honest practice of medicine.
After mid-January, Alese and I will be traveling to several plant-based events, namely the Sedona Veg-Fest (http://healthyworldsedona.com/sedona-vegfest-2017/) and the Holistic Holiday at Sea Cruise (http://www.atasteofhealth.org/events/) before alighting at a quiet location in Palm Springs, CA where my research and writing and recording will begin in earnest.
Of course, we cannot embark upon this adventure without feeling sadness in leaving the many colleagues, patients and friends to whom we have become close during 8+ years at TrueNorth Health Center. There are so many people to whom I must give the warmest "Thank you!", starting with Dr. Goldhamer and Dr. Jennifer Marano who opened this remarkable opportunity to us, both by creating TrueNorth and staying true to its vision over the decades. They opened their hearts and healing community to Alese and I and have been generous and loving hosts to us. I give a warm "Thanks!" to my clinical colleagues who supported me while I traveled to distant cities and lands and who educated me on the many aspects of healing not taught in conventional medical schools.
"Thank you" and "Muchas Gracias!", as well, to the wonderful people of the Front Desk, Concierge, Housekeeping and Kitchen Staff - you all became my friends and colleagues and your loving, professional labors make TrueNorth a benevolent, living entity with a heart that only wants the best for all who walk through our doors. Through all of your efforts TrueNorth becomes not unlike the ancient Greek healing temples, the Asclaepia, where people recovered their health with rest, fresh food and the loving ministrations of the resident healers and helpers.
I will make every effort to stay connected with you all by written communication and electronic participation in meetings and rounds and will always be available to you, should you need to call on my services. I will remain encouraging of the important research into fasting and plant-based nutrition that is planned for TrueNorth and supportive of the growth of the Center's clinical program. I look forward to contributing to this pioneering work in some way, increasingly feasible to do in this age of electronic wizardry.
Though we may travel many miles from Santa Rosa, you will always be in our hearts and will have our eternal gratitude for all we have learned, received and enjoyed here. Our best wishes to you all for lives filled with health, happiness and Peace from Alese and me.
Warmly,
Dr. Michael Klaper
www.DoctorKlaper.com
NOTE: I will be able to be reached at: info@DoctorKlaper.com and those interested in following my writings, appearances and webinars can do so through my website: www.DoctorKlaper.com