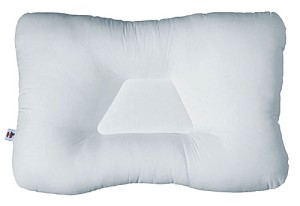 The Mid-Core pillow is the mid-size version of the Tri-Core pillow.

The cervical neck pillow's unique trapezoid center helps align the spine, whether you sleep on your back or your side. With your head cushioned and your neck supported, the Tri-Core Cervical Pillow helps alleviate everyday headaches, neck strain and other maladies.

The Tri-Core is the fiber support pillow most recommended by the medical professionals who commonly treat neck and head pain. Most users experience a positive difference within days of using the cervical pillow, while others may require up to two weeks before their neck and back muscles adjust to their proper position.

The cervical neck pillow, made with premium quality fiber, might even help alleviate airway blockages, a major cause of snoring.