This article originally appeared in the Spring 2016 issue of Health Science magazine, the member magazine of the National Health Association.
Sarita Bhola tells her story of how she went from 21 different health diagnoses to feeling vibrant and alive!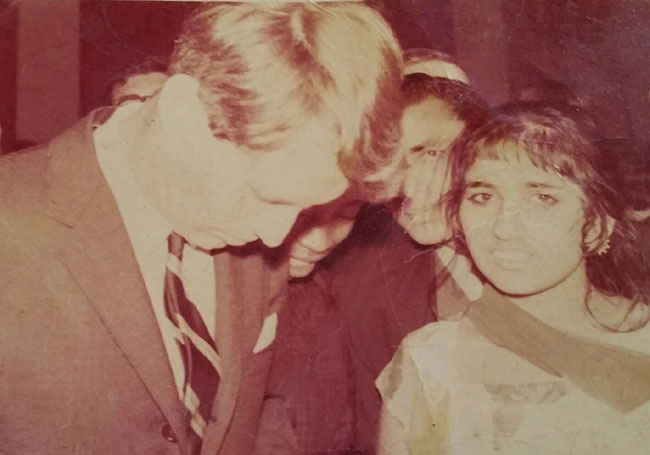 Above: Sarita met Robert Kennedy while her father worked at the Indian Embassy in Washington, D.C.
By Sarita Bhola
In 1960, my family moved to the U.S. from New Delhi, India. My father was working in the Indian embassy in Washington, D.C., which gave me an opportunity to meet many well-known dignitaries of the time. I met the then prime minister of India, Pandit Jawaharlal Nehru, and his daughter, Indira Gandhi, who later became the prime minister of India.
When I was 14, I had the good fortune of working in the White House along with Vice President Lyndon Johnson's daughters, Luci and Lynda. My job was to sort and mail brochures. I also met Robert and Jackie Kennedy, and had the pleasure of watching Swan Lake in the White House auditorium. It was a very exciting and memorable part of my growing up.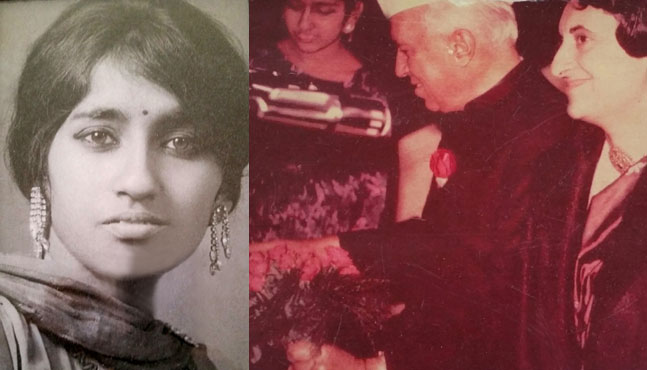 Above: Sarita as a young girl (at left). Sarita at upper left, with then prime minister of India, Pandit Jawaharlal Nehru, and his daughter, Indira Gandhi, who later became the prime minister of India.
But as I grew older, being sick, fat, and tired became the biggest challenges of my life. During my early twenties I was very active, healthy, and energetic, and I was at a healthy weight. At age 21 I was married as part of an arranged marriage. After the birth of my second child in 1976, I gained 65 pounds, which I struggled off and on to lose.
In 1979 my young family moved from New Delhi to DeKalb, Illinois. I started graduate school while taking care of two kids and a husband, along with holding a full-time job, which was part of my assistantship. We were very poor, and due to lack of time and money, we started eating unhealthy foods like chips, cheese, hot dogs, and fried foods. Flour, sugar, and cheese were very cheap, and being a good cook, I made the best use of them in making daily meals and snacks. The stress in my life combined with my lack of exercise and consuming a poor quality diet caused me to put on weight.
After completing my Master's degree in education with a minor in English literature, we moved to California. I landed a very demanding job as a pilot line manager at the Intel Corporation in the technology development department. I was the only woman manager at that time. I was responsible for three shifts, consisting of 25 technicians and 2 engineers. I was married to my job and had no free time. My lack of exercise and eating the wrong food, along with tremendous stress, aided in my ballooning weight.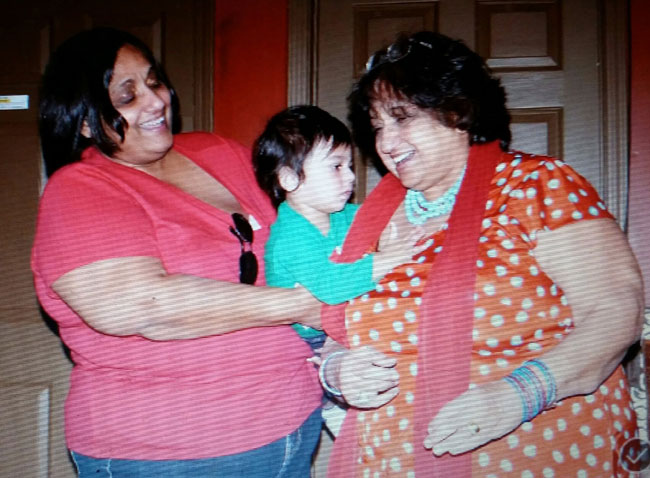 Above: Sarita (at right) before her weight loss, with her sister and grandson.
Around this time, I heard of a doctor who performed miracles with weight loss, so I made an appointment. He prescribed medications, including fen-phen, Prozac, and Xenical, as well as B12 injections. With his help, and by eating mostly rice cakes, carrots and fruit, I was able to get back to my original weight.
My family and I started taking long hikes on the weekend, and even climbed Mt. Lassen and Yosemite Falls, among many others. I would sometimes bike or walk during my lunch breaks, but the stress of my job and my family demands, combined with my lack of sleep and regular physical activity, brought my energy levels down, and in 1989 I was diagnosed with chronic fatigue syndrome.
At this time, I found out that I had been on the fen-phen diet (a drug combination of fenfluramine and phentermine), an anti-obesity treatment. It was later shown to cause potentially fatal pulmonary hypertension and heart valve problems, and eventually it was withdrawn from the market. (It may have been the cause of my mild congestive heart failure, but I cannot be sure of this.)
Despite my health issues, I continued to work for five years. But eventually, in 1995, I became bedridden. My activity level plummeted to zero and my calories for the day were down to 500. I would eat a protein bar for breakfast, skip lunch, and for dinner I would eat vegetables or an omelet with some low-carb bread or tortillas.
In spite of the limited calorie intake, I continued to gain weight. The number of my diagnosed illnesses numbered 21 at one point, and included diastolic heart failure, diabetes, asthma, sleep apnea, adrenal fatigue, chronic fatigue, fibromyalgia, chronic depression, insomnia, and GERD.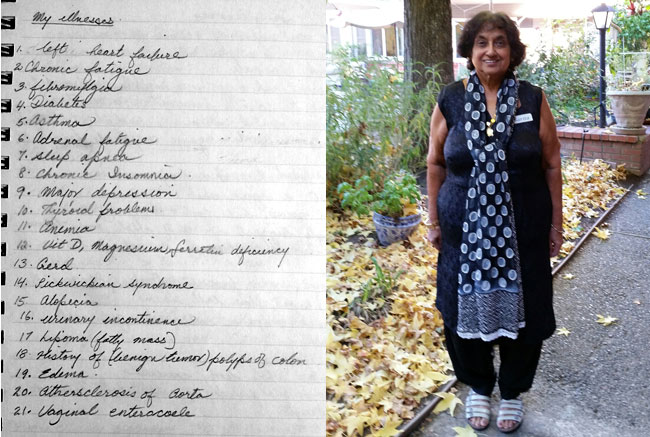 Above: Sarita's diagnosed illnesses numbered 21 at one point (left). Sarita, at right, after her weight loss.
I had been taking a B12 injection every day for 25 years; without it I could not get out of bed. I was on 17 prescription drugs and over 25 supplements. Some were prescribed by my internist, cardiologist, and naturopath, and others I was taking on my own after doing extensive research. I had five surgeries during this time, as well as developed a growth in my voice box and 11 precancerous polyps in my colon.
Normal activities such as taking a bath became very difficult. And at times, I was just too tired to eat. My weight was now at the highest that it had ever been. I experimented with the Atkins diet and lost some weight, but it came back eventually. I did go on the South Beach diet and lost 45 pounds, but in time the weight crept back, and my illnesses raged on.
A Turning Point
In 2014, I decided to go to a naturopath, Greg Barsten. He found worms in my stomach and said that I needed major work done on my teeth, which had deteriorated from all the drugs that I had been taking. He put me on a vegetarian diet and suggested I stop eating all gluten, dairy, and meat. I was allowed good fats and salt, but no sugar. While some of my illnesses started diminishing, my weight did not budge.
I was advised to take extremely hot baths in organic hydrogen peroxide to release toxins from my body. We were willing to try anything. We bought an infrared sauna, and also switched from using chlorinated water in our swimming pool to ozonated water, which is said to be much healthier. But very little changed.
My naturopath referred me to another naturopath named Brad West, who diagnosed me with thyroid problems and chronic adrenal fatigue. He said I likely had four years to live and would end up on dialysis if I did not address my problems immediately. He recommended that I go to TrueNorth Health Center in Santa Rosa, California for a water fast. The thought of water fasting scared me and my family, but I had to give it a shot.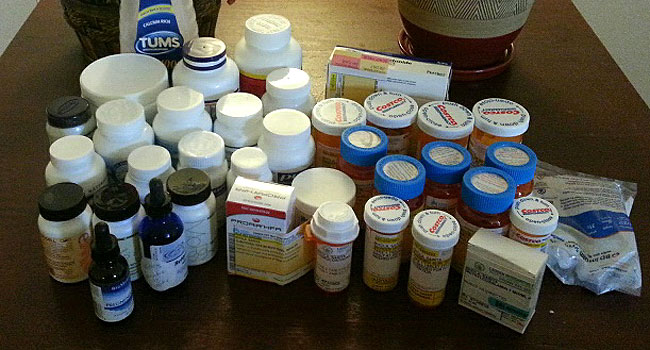 Above: Sarita was on 17 prescription drugs and over 25 supplements at one point.
My family and I came up with lots of questions for Dr. Alan Goldhamer, D.C., the founder of TrueNorth. We had a conference call with him, and he assured us that I was not going to die. I had nothing to lose but my weight.
With much trepidation, in August 2014, my husband and I went to meet with Michael Klaper, M.D., one of the staff doctors at TrueNorth. He advised me on how to eliminate all of my supplements, daily injections, and some of the prescription drugs once I got home. He also prescribed a plant-based diet of no salt, sugar, oil, gluten, or grains. I ate lots of vegetables plus one serving of fruit, 10 grams of nuts, and a serving of legumes every day.
At this time, I was unable to walk two steps. Dr. Klaper suggested that I start walking for just two minutes a day around my house. And for the first time in years, I started losing weight. I lost eight pounds in three weeks. My health was finally moving in the right direction, and so I decided to make a major commitment: I checked into TrueNorth as a patient for 10 weeks.
Fasting
My first month at the Center was spent getting off of all of my prescription drugs. I then began my water fast in September of 2014, which lasted for 21 days. It seemed like God was carrying me; it was amazing. I started walking 30 minutes a day, and was doing one and a half hours of gentle yoga three times a week while I was on the water fast. It was like a miracle. By the end of my fast I had lost 37.5 pounds.
I am very lucky to have a very supportive husband, who not only stayed at TrueNorth with me, but has been eating this food along with me without any complaints. He has made this sacrifice so that I don't have to cook unhealthy food and be tempted by it. We have been eating 97% TrueNorth ever since leaving the center, except for hot sauce, nutritional yeast, and a bit of stevia, which are my new vices. My husband eats more fruit, grains, starches, and nuts than I do. I am no longer on any prescription drugs, and I have fasted twice at TrueNorth since my first fast: once for 14 days and another time for 7 days, and have lost 75 pounds overall.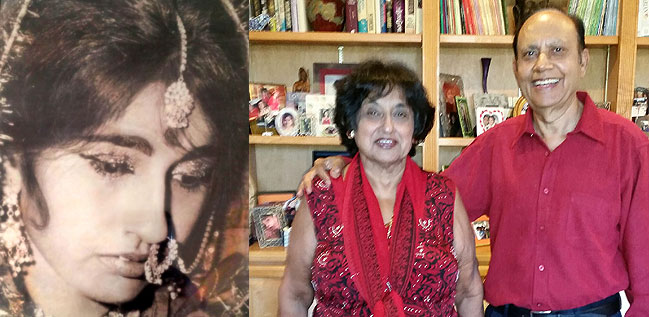 Above: Sarita, left, on her wedding day at age 21. At right with her husband today.
Back Home
My weight has plateaued a bit, but I look forward to losing a little more to reach my goal weight of 160 (I am 5'3"). I currently eat 70% raw fruit and vegetables, and my blood tests are better than the average person's. All of my illnesses are slowly diminishing. My heart is healthier, and my chronic anemia is gone, as well as my asthma and GERD. My diabetes is borderline, my HbA1c is at 5.9, but this will become less of an issue the more weight I lose. I now only take B12, vitamin D, and magnesium supplements. I exercise every day for 1.5 to 2 hours on an exercise bike or in the swimming pool.
I have been blessed with so much energy that, at times, I do not know what to do to keep busy. Dr. Klaper, Dr. Goldhamer, and Dr. Doug Lisle are my saviors. I still have some issues with my chronic fatigue, fibromyalgia, and depression, and live with a few aches and pains for which I refuse to take any medicines. But I feel like I am a new person now—a miracle in the making. I am planning to volunteer at my local community center as well as the homeless center soon. After embracing the path of health and wellness in my life, I feel more vibrant, alive, younger, and full of energy. Every day I am filled with gratitude.