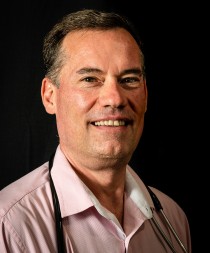 Chris Rhule is a U.S. Navy veteran and physician assistant with over 15 years of experience in cardiovascular medicine and surgery, in both the U.S. and Canada. Chris earned his Bachelor of Science degree from the University of Minnesota with Summa Cum Laude distinction. He then went on to pursue a Master of Health Science in Physician Assistant Studies from Quinnipiac University in Hamden, Connecticut, where he graduated with honors in 1999. Chris has worked as a respiratory therapist, physician assistant, and cardiothoracic surgery PA. He also served 4 years as the National President of the Canadian Association of Physician Assistants.
In 2014, Chris decided to take a short sabbatical from his medicine practice to travel, but his 6-month rejuvenation turned into over 6 years of world travel adventures. During this time, he was exposed to a multitude of different cultures and life philosophies. This included a glimpse into a variety of traditional, natural, and alternative medicine experiences which opened his eyes to a new world of non-western medicine modalities.
In 2019, Chris's sister experienced water-only fasting at the TrueNorth Health Center, and learned how whole-food, plant-based nutrition could heal the body and mind. She was so inspired by the improvements in her personal health and the stories of other people, that she adopted this new lifestyle with vigor. One year later, she had lost 100lbs and improved her underlying medical conditions. Witnessing these changes in his sister's mental and physical health, Chris also transitioned to a whole-food, plant-based, SOS-free lifestyle, and lost 45lbs while normalizing his blood pressure and coming off multiple antihypertensive medications. Chris earned his Plant-Based Nutrition Certificate from the T. Colin Campbell Center for Nutrition Studies at Cornel University and began a clinical internship at the TrueNorth Health Center in 2020. After just two months, Chris was hired to become the first PA to join the TrueNorth staff as an attending. In his spare time, Chris enjoys hiking, camping, and visiting the beaches of Northern California.