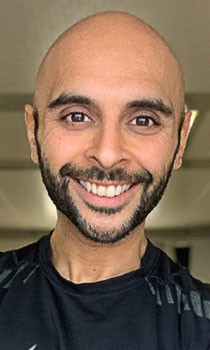 Dr. Sadiq Sheraze is a staff doctor and expert in movement and exercise, rehabilitation, and osteoporosis management. He received his Doctorate in Chiropractic Medicine from the University of Western States and a B.A. in Psychology from Baylor University. He is currently completing a Master's degree in Functional Medicine and Nutrition.
Sadiq was born and raised in Houston, TX, where his father was a franchisee for several fast food chains. While he was a student at Baylor, his older brother was diagnosed with multiple sclerosis (MS). Sadiq knew that his path towards healthcare would be to find a solution for his brother's illness. He applied to medical school in Houston and worked as a genetic researcher. Owning his own business was also one of his aspirations; he operated a successful eyeglass boutique that would eventually grow into a multi-million-dollar business.
Despite a successful career, Sadiq realized his calling was to heal his brother. A jet skiing accident that left him in severe pain from a spinal injury brought him back to the medical field. He consulted an orthopedic surgeon who recommended surgery, but Sadiq got a second opinion from a chiropractor who told him to lose 45 pounds and strengthen his core. He also educated Sadiq about the neuro-musculoskeletal system's ability to heal and protect itself through diet and functional movement practices. The disconnection between traditional medical practice and the truth of what healed the body convinced Sadiq to leave his successful life in Houston and pursue an education in chiropractic medicine.
Sadiq studied at the University of Western States in Portland, OR. He was eager to learn how to resolve his brothers MS, improve his own health, and become the best doctor he could be. He learned about water fasting and plant based medicine after hearing a lecture from Dr. Alan Goldhamer, founder and director of TrueNorth Health Center. He recognized the opportunity to expand his nutritional education and began interning at True North Health in 2017. He joined the staff in 2020 and began to implement fasting, diet, and functional movement into his practice.
Besides spinal and joint manipulation, Sadiq's specialty is educating people about their movement patterns. He is certified in Functional Movement Systems, which are designed to identify and correct limitations and imbalances in the ways that people move. He also uses Dynamic Neuromuscular Stabilization techniques, which focus on core strengthening and stabilization.
Sadiq is an experienced personal trainer in strength and conditioning, working with athletes such as marathon runners and power lifters. One of the key parts of his practice is helping his patients recover from injury through rehabilitation and improving their fitness by creating movement and exercise routines for them. In addition, he works with patients on life coaching, helping them plan and execute smart goals. He is highly trained in behavior modification and strives to ensure his patients are moving right and moving often.
He is a frequent lecturer at True North Health as well as at colleges and high schools. His passion is to awaken individuals to their optimal human potential through nutrition, movement, and mindset. He is the founder of Optimal Alignment Health, an online education program.
When he is not working, you can find Sadiq kayaking on the Russian River, riding his Trek bike around Sonoma County, hiking in Yosemite, or hosting whole-plant-food dinners for friends. He enjoys working with young people to inspire them to take better care of their health through whole plant foods, movement, and meditation. He also enjoys writing, reading about quantum mechanics, and dancing.