This article originally appeared in the Fall 2016 issue of Health Science magazine, the member magazine of the National Health Association.
NHA president gets up close and personal at TrueNorth Health Center
By Mark Huberman
From September 10–17, my wife Wanda and I (pictured below) had the wonderful experience of spending a week at Dr. Alan Goldhamer's TrueNorth Health Center in Santa Rosa, California, covering it for this magazine. As you will see from some of the pictures I am sharing, it is truly a remarkable facility that offers the finest and most comprehensive care that our health movement has ever produced.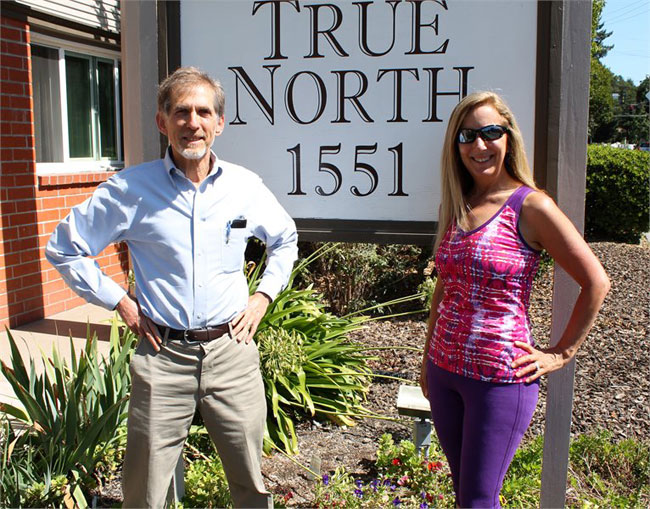 The environment at TrueNorth is soothing and conducive to healing, and the accommodations are spacious, clean, and include free Wi-Fi, flat-panel televisions, and even Sleep Number beds. The daily food buffets prepared by Chef Ramses Bravo and his staff are a model for just how easy, enjoyable, and inspiring an uncompromising whole-foods, plant-based, SOS-free (salt, oil, sugar) diet can be.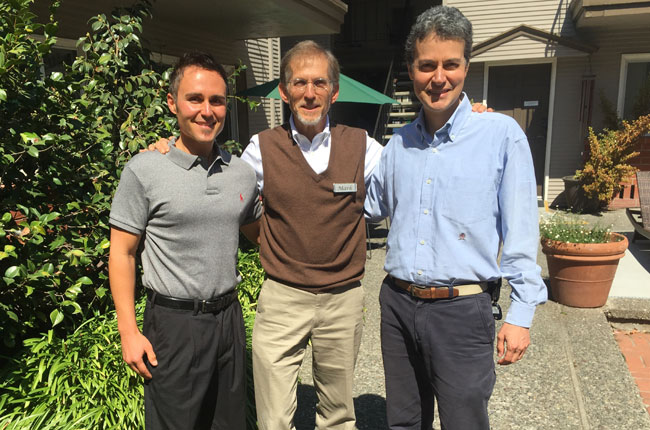 L to R: Dr. Peter, Raisanen, Mark Huberman, and Dr. Peter Sultana
There are in-depth health lectures and/or cooking classes at least twice a day, along with fitness and nutritional consults and training, yoga, chiropractic care, and more. Most importantly and impressively, the Center offers world-class fasting supervision by an extraordinary staff that includes caring and experienced supervising medical doctors, naturopaths, chiropractors, a resident physician, and daily visits by interns, all of whom combine to give patients one-on-one daily care like nowhere else I have ever seen or heard of. The entire staff—from the receptionists to the cooks to housekeeping—is as friendly and welcoming as you could imagine.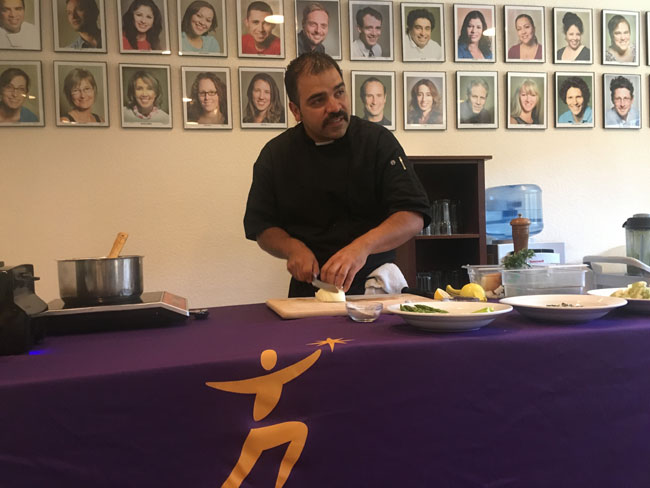 Chef Ramses Bravo giving a cooking demonstration
During our stay, I had the opportunity to interview many of the guests, and I am pleased to report that a large number of them joined the NHA after being introduced to our fine publication, Health Science. Here is a sampling of the wonderful people I met and a glimpse into some of their remarkable stories of recovery.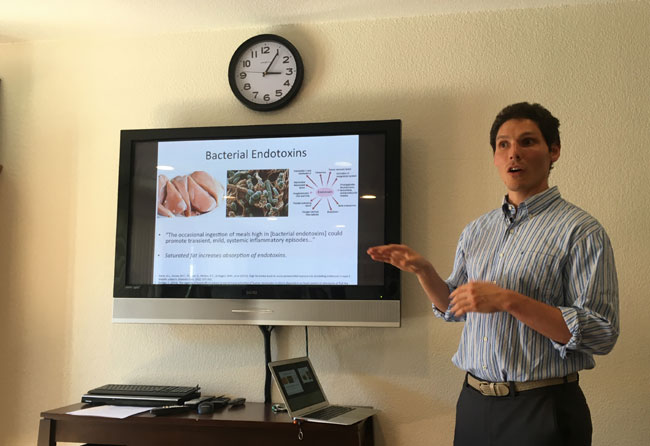 David Goldman lecturing
Robert Smith of Newport, Oregon
Robert Smith is a veteran deep-sea fisherman who is on his fourth visit to TrueNorth over the course of a couple of years. He is proud to report that he has lost 120 pounds and has completely changed his life for the better. He learned about TrueNorth after reading The Pleasure Trap. Robert described himself as previously being "very overweight, on medication, and just miserable." He tried all kinds of gimmick diets, including Adkins, juice diets, and protein shake diets, all of which caused him to lose weight only to gain it back.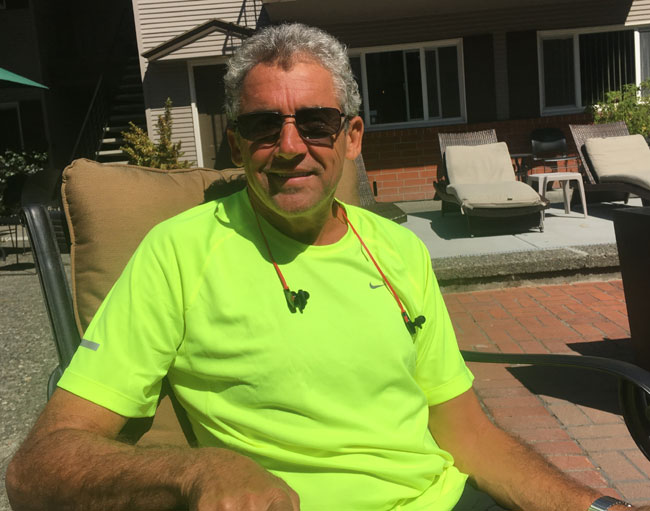 Robert has fasted under the care of Dr. Michael Klaper, but on his current stay, he was under the care of Dr. Anthony Lim, whom he describes as "funny and very energetic." Robert has tremendous praise for the entire staff, from the housekeeping staff to the doctors, he says, "all of whom combine to create a very healing environment." He also commented that the price is more than right and truly a bargain, adding, "I frankly don't know how they do it—since they feed you, take care of you, wash your clothes, and provide you with lectures—all at a great price." Now when Robert goes out to sea, his wife makes him a bunch of plant-based, SOS-free meals. He does admit to missing eating fish, but he says he is never turning back.
Elizabeth Oehler of Montville, New Jersey
Elizabeth turned 75 in October and came to TrueNorth to deal with a lengthy battle with diabetes and osteoarthritis in her knees. She and her husband, Max, were referred to TrueNorth by Dr. Ronald White, a whole-food, plant-based doctor in Long Valley, New Jersey, who operates the Ethos Health Center. Dr. White told Elizabeth, "If you want to get rid of your diabetes, you've got to go to TrueNorth."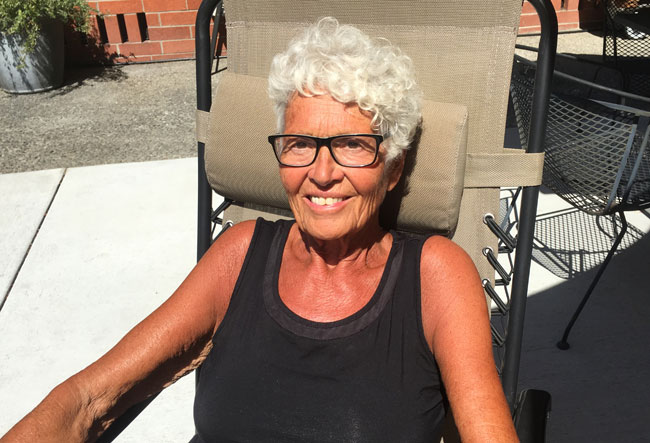 Once at TrueNorth, Elizabeth fasted for 14 days under the care of Dr. Anthony Lim, and after a period of re-feeding, I met her as she was about to return home. She is thrilled to report that her diabetes is gone and that she hasn't had any pain in her knees. She loved Dr. Lim, but also praised the Center's new resident, Dr. Peter Raisenan, as well as the many interns who see patients several times a day. She found everyone to be very caring and never rushed. She describes TrueNorth as a "wonderful place that is down to earth and like a spa." She reports meeting many great people with whom she is sure to remain in contact, adding that for her and her husband of 49 years, "Coming to TrueNorth was the best decision we ever made—except getting married!"
Lynn Corrigan of Camano Island, Washington
Lynn is a 65-year-old massage therapist who came to TrueNorth following her recent surgery for colorectal cancer, determined to avoid the return of her cancer. She fasted 17 days under the care of Dr. Michael Klaper, who she states, "held my hand through the entire stay." He challenged and inspired her to stick with the program for the long term so that there will be "no cancer cells in my body at all, and so my immune system will be able to tackle those cancer cells that we make on a daily basis." She also greatly appreciated Dr. Doug Lisle, who she states "does for the mind what these other guys do for the fasting and cellular repair." She claims that "From the beginning she has looked at cancer as her friend and teacher."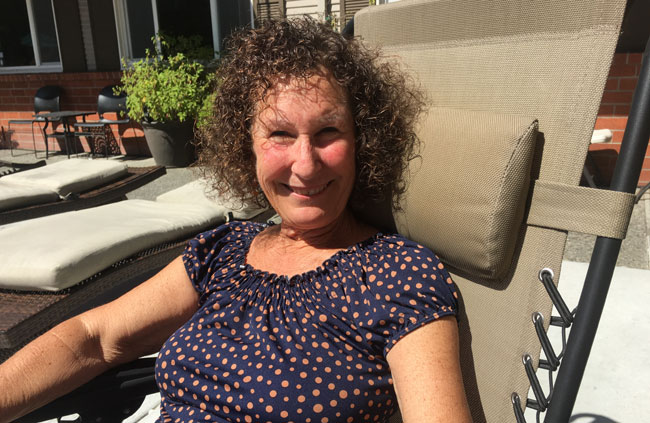 Rakesh Wradhwa of Dubai, United Arab Emirates
Rakesh is a 59-year-old resident of Dubai who grew up in India but who spends lots of time in the U.S. While in school, he learned about naturopathy, read about Gandhi and was fascinated by the beneficial aspects of fasting, but he never practiced it himself. He reports that India was not a healthy country in which to grow up, since, while people are vegetarian, they are often very unhealthy because they eat a lot of salt, oil, sugar, and dairy products.
Rakesh first discovered Dr. Goldhamer back in 1991 when he was operating the Center for Conservative Therapy in Penngrove, California. Rakesh's wife was diagnosed with breast cancer and came to the Center for a fast. She fasted for around 28 days and her lumps completely disappeared. He started coming to TrueNorth in 2009 after being diagnosed with a constellation of health problems, including lupus, high blood pressure, sleep apnea, headaches, skin problems, prostate enlargement, and hypothyroid. He was prescribed some very potent drugs but was not getting any better. He fasted for 30 days and had some significant healing crises. Over time, his lupus went into full-scale remission, and while his thyroid issue has not resolved itself, he reports that it is certainly better and the medication for it has been cut nearly in half.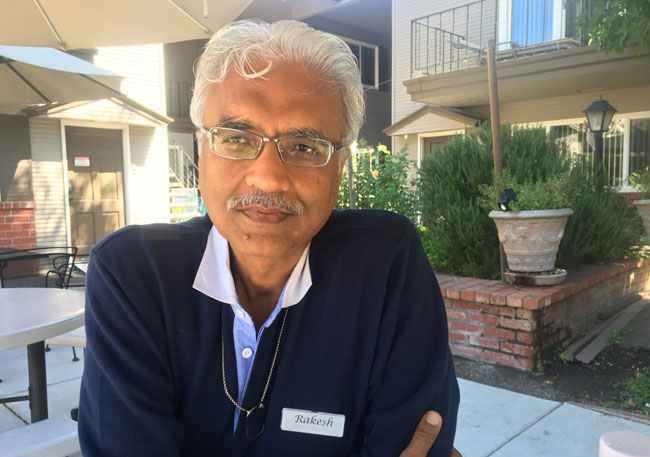 Rakesh's blood pressure has been significantly reduced and his sleep apnea has improved to the point that he often has been able to do without the C-PAP device, something he attributes not only to the fasting but also following a plant-based diet. He now comes to TrueNorth every year. Sometimes he fasts and sometimes he does not. Like so many of the other guests, he has the highest praise for the staff at TrueNorth, who he states, "basically don't leave you alone." While he has stayed at more luxurious centers around the world, he considers TrueNorth "by far the most effective in the shortest possible time."
Dr. Madeline Long of Bryn Mawr, Pennsylvania
Madeline Long has practiced Internal Medicine in Bryn Mawr Hospital for approximately 33 years. She came to TrueNorth almost a month ago, and at the time of our interview, she was on her 13th day of a fast. Two years ago, she received a cancer diagnosis and wanted to do something alternative since she became convinced that "one single drug, one simple treatment, one single radiation bout does not kill all the cancer cells." She has come to believe that cancer cells need glucose to survive, and the best sway to change their metabolism is to do a water fast.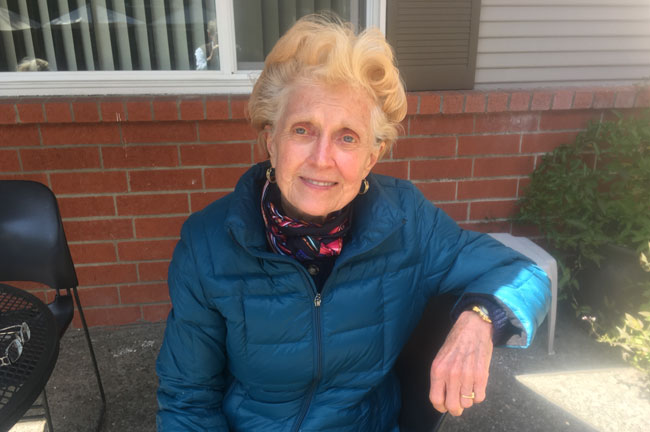 From a medical standpoint, she considers Dr. Goldhamer to be brilliant and has high praise for the staff he has assembled, all of whom provide a completely supportive, patient-friendly experience. She also described them as being welcoming, loving, caring, and comforting. Her personal physician at the Center is Dr. Michael Klaper, who she also considers a brilliant practitioner. She is amazed and impressed by the twice-a-day doctor visits, weekly blood tests, and daily monitoring, which she considers "amazingly embracing for a patient." She has become totally immersed in the TrueNorth program and plans on taking it back to her practice. She characterizes it as a religion to her and that her "new theology" is plant-based.
Gavino Villa, of Paso Robles, California
Gavino is a 54-year-old Mexican-American who for the past five years has operated a bamboo farm under the name "Paso Bamboo." He suffered from Jorgen's Syndrome, a rare autoimmune disease that mostly affects women, which obstructs the body's ability to produce lubrication. It initially affected his eyes, but then progressed to his joints, resulting in a debilitating effect on his hip and ankle. He also suffered from some very severe hemorrhoids. His doctor prescribed various medications that only made matters worse and led to depression. He reports that trying various "quack treatments" did nothing to help him.
His first step in the direction of true health care came from a Ted Talk delivered by Dr. John McDougall. After 10 minutes of listening to his wisdom, Gavino decided he would never eat meat again. Just by cutting out meat and following Dr. McDougall's dietary recommendations, his hemorrhoid problems resolved, but his weight remained an issue as did his joint problems. He then came across Dr. Joel Fuhrman's book, Fasting and Eating for Health, and thought that maybe fasting could help him recover. He found a local Adventist anesthesiologist who was transitioning out of his conventional medical practice who helped him (and even joined him!) in the fast.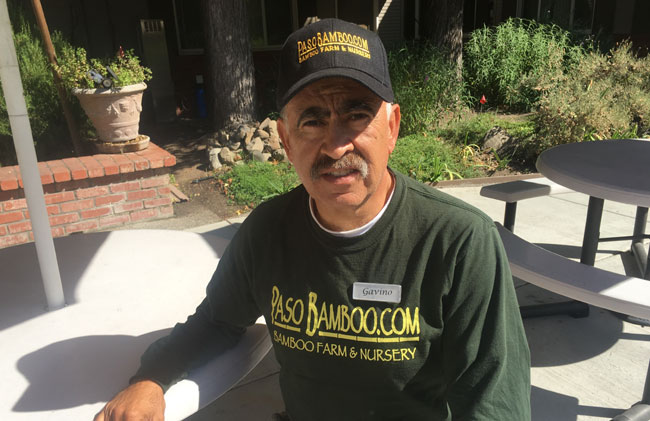 After a 15-day fast, his symptoms cleared up by 90%, but then regressed to 60% afterwards. Still believing that fasting would be the key for him, he Googled "fasting" on the Internet and came across Dr. Alan Goldhamer—a discovery he describes as a "godsend." When he arrived at TrueNorth, one of the first lectures he heard was from Dr. Anthony Lim, who really set him straight on diet, causing him to cut out his "peanuts, tortillas, and bread," lifelong staples of his diet.
Dr. Peter Sultana became Gavino's primary doctor and supervised his 20-day fast. As a result of the fast, all of his symptoms cleared. He stayed an additional 10 days to re-feed and is back at home and at work on his farm in the best health of his life. Before leaving, one of his other good fortunes was to have a consultation with David Goldman, who he considers the best trainer and nutritionist in the world and an extraordinary resource for TrueNorth. David sent him home with not only an exercise program but a nutrition plan for the next six months.
Gavino credits TrueNorth with not only giving him back his health, but control of his body for the first time in his life. He also believes they provided him a spiritual awakening. He insists that there is no place like it because the Center can attack all aspects of a patient's needs. He credits Dr. Goldhamer for assembling a remarkable, caring staff that includes not only the doctors but the cooks and the cleaning staff. He also greatly admired the way they all appreciated and respected Dr. Goldhamer as their boss. ***
Below: the TrueNorth Health Center courtyard