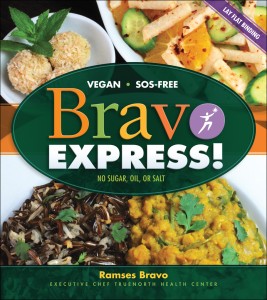 Bravo Express! is the 2nd cookbook from TrueNorth's Chef Ramses Bravo.
You can now make wholesome meals at home that follow the same vegan SOS-free approach you enjoy at TrueNorth, but in a few simple steps. Bravo Express! is designed to support you with very easy-to-follow recipes. Only a few ingredients are required to make each of the recipes in this cookbook!
Now the transition from staying at TrueNorth, to sustaining a plant-food lifestyle at home, has just got a lot easier! The cookbook also shares two weeks of sample menus to support you in your meal planning, plus helpful tips on getting set up in the kitchen and cooking techniques.
Chef Ramses Bravo is TrueNorth's Head Chef, and has been managing TrueNorth's Kitchen since 2007.