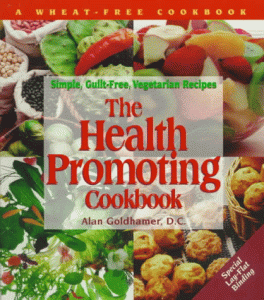 This cookbook is designed for people who want to eat to live — and live healthfully.
The recipes in this book completely avoid the use of all animal products, including meat, fish, fowl, eggs and dairy products as well as the use of added oil, salt and sugar. Most recipes are also wheat-free. All of the recipes use readily available ingredients derived exclusively from whole natural foods such as fresh fruits and vegetables, whole grains, beans, and raw nuts and seeds.
The Health Promoting Cookbook provides you with a week-long menu of integrated recipes designed to minimize your time in the kitchen. Each recipe includes an estimate of the required preparation and cooking time. The book includes special recipes that are good for holiday feasts, feeding children, losing weight and dealing with food sensitivities and allergies.
Detailed Nutritional information is included for each recipe and the weekly menu. Comprehensive shopping lists of all the ingredients you need are included in the appendix. The recipes in this book work and have been extensively taste tested by hundreds of patients that have completed the residential health education program at TrueNorth Health.