In light of recent events, we have decided to limit our deli service to curbside pick up only. Please note: We are currently offering same-day ordering only.
Call the front desk to place your order: (707) 586-5555 Opt. 1.
Pay for your order over the phone using a debit or credit card. (Payment must be taken over the phone)
Please allow 15-30 minutes for us to prepare your order.
When you arrive to pick up your order, please park along the curb in front of the visitor entrance on Pacific Street and call the front desk to inform us of your arrival.
We will bring your order to your car.
Please note: We are unable to hold orders longer than 30 minutes.
Our chef Ramses Bravo, author of the cookbooks: "Bravo!" and "Bravo Express!", has developed a variety of outstanding dishes which fully comply with the TrueNorth Health strict policy of avoiding all animal products, as well as avoiding added oil, salt and sugar.
We can email you weekly to let you know what our featured items for the week will be. If you are not on the mailing list yet, click here to be added, and check the "Weekly TrueNorth Kitchen Updates" box (as well as any others that interest you).
Thank you for your support, and we hope this new model makes it easy for you to eat healthily everyday!
TrueNorth Health Center
Rows
Lemon Parsley Dressing
House made dressing!
Fresh lemon juice, parsley, cashews, garlic and vegetable broth.
Image coming soon...
Yellow Curry Lentils
Yellow lentils, onions, garlic, celery, vegetable broth, yellow curry, arugula and oyster mushrooms.
Kidney Beans Stew
Kidney beans, tomato paste, spinach, mushrooms, potatoes, onions, garlic, celery, carrots, and vegetable broth.
Mushroom Polenta with Roasted Tomatoes
Polenta, mushrooms, vegetable broth, tomatoes, shallots, garlic, herbs, fennel and saffron.
Potato-Corn Cakes
Cakes: potatoes, corn, peppers, onions, Cajun spices, and brown rice flour. Lemon-parsley sauce: lemon, parsley, cashews, and garlic. Salad: Corn, tomatoes, fennel, black pepper, parsley, rice vinegar, and red onion.
Falafel
Garbanzos, red onion, roasted garlic, lemon juice, mint, parsley, black pepper, vegetable broth, and chili powder. Sauce: Roasted onions, cashews, vegetable broth, celery, lemon juice and sesame seeds.
Wild Rice and Quinoa Salad
Wild Rice, quinoa, vegetable broth, watercress, carrots, orange juice, lemon juice, lime juice and shallots.
Mo's Mustardy Tu-No
Garbanzos, carrots, tomatoes, red onion, celery, parsley, mustard, cashews, garlic, black pepper, lemon juice and vegetable broth.
True North Curtido
Green cabbage, beets, carrots, red onions, celery, basil, oregano and rice vinegar.
Boulangere Potatoes
Potatoes, vegetable broth, onions, garlic, shallots, no-salt seasoning, and thyme.
Fall Harvest French Toast
Rolled Oats, apple juice, pumpkin puree, apples, pears, raisins, pecans and pumpkin spice. Sauce: Pumpkin puree, pears, cashews, vanilla, pumpkin spice and apple juice.
Blueberry-Lime Truffles with Berry Compote
Blueberries, dates, gluten-free oats, lime, toasted cashews, and berries.v
Pina Colada Pie
Pie: Pineapple, cashews, coconut milk, pineapple puree, dates, agar flakes and toasted coconut. Crust: Macadamia nuts, dates, brown rice flour and vanilla extract.
Dried Cherry and Pecan Bars
Filling- Dried cherries, dried mango, pineapple juice. Crust- Oats, pecans, cinnamon, shredded coconut, pineapple juice, almond butter.
Image coming soon...
Mung Bean Stew
Split mung beans, onions, celery, leeks, carrots, cabbage, turnips, garlic, vegetable broth, fenugreek and caraway seeds.
Image coming soon...
Smoky Red Lentils
Split Red Lentils, onions, garlic, celery, potatoes, kale, tomatoes and smoked paprika.
Image coming soon...
TrueNorth is a proud affiliate of Well Your World products — now available for pick up at the front desk.
Well Your World offers a variety of whole plant-food sauces, dressings, and mixes. All products are SOS-free and made from wholesome, quality ingredients. These condiments are a great way to spruce-up your meals, with delicious flavors and minimal effort.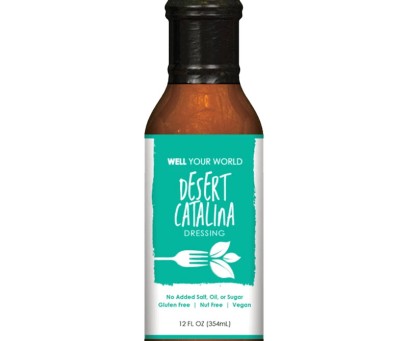 Desert Catalina Dressing
Water, apple cider vinegar, tomato figs, garlic, onion, mustard seed, paprika, white pepper, citric acid, & spices. 12oz bottle - $10.95
BBQ Sauce
Tomato puree (water & tomato paste), sulfite-free raisins, apple cider vinegar, onion, peppers, pasilla pepper, natural smoke flavor, mustard seed, garlic, black pepper, & spices. 13.6oz bottle - $9.95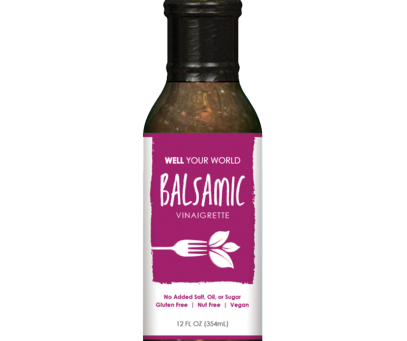 Balsamic Vinaigrette
Water, balsamic vinegar, raisins, onion, garlic, spices, & xanthan gum. 12oz bottle - $10.95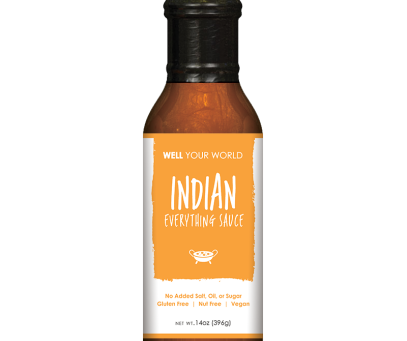 Indian Everything Sauce
Tomato puree (water & tomato paste), rice wine vinegar, dates, madras curry (cinnamon, cumin, fennel, coriander, cardamom, cloves, nutmeg, fenugreek, bay leaves, anise, mustard, cayenne, black pepper, turmeric), ginger, garlic, cumin, spices, & xanthan gum. 10oz bottle - $9.95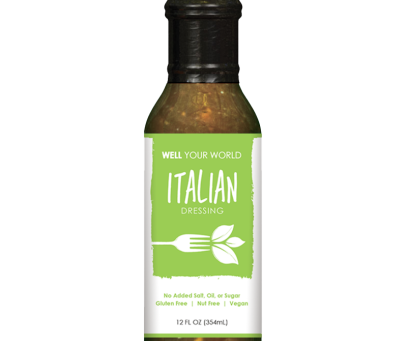 Italian Dressing
Water, raisins, distilled vinegar, onion, apple cider vinegar, garlic, lemon juice, xanthan gum, & spices. 12oz bottle - $10.95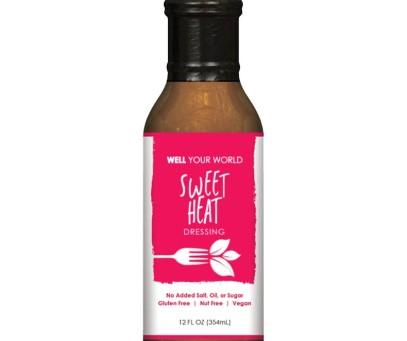 Sweet Heat Dressing
Water, dates, apple cider vinegar, tomato, garlic, onion, chipotles, habaneros, & spices. 12oz bottle - $10.95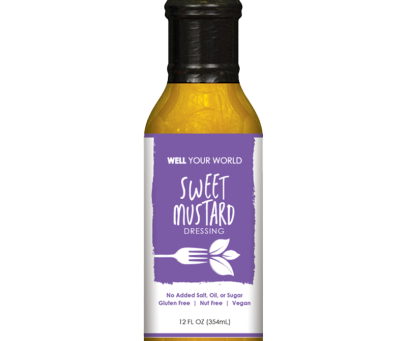 Sweet Mustard Dressing
Apple cider vinegar, water, dates, mustard seed, onion, turmeric, & spices. 12oz bottle - $10.95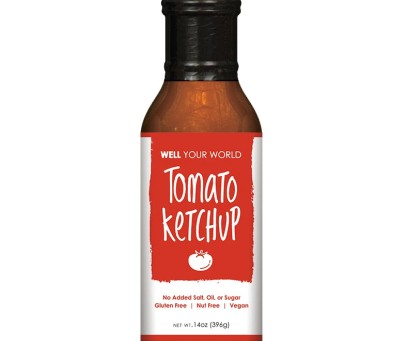 Tomato Ketchup
Tomato Puree (water $ tomato paste), apple cider vinegar, sulfite-free raisins, onion, garlic, white pepper, & spices. 14oz bottle - $9.95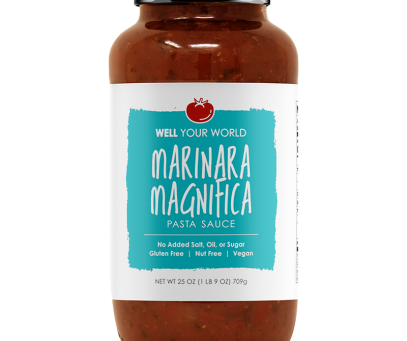 Marinara Magnifica Pasta Sauce
Diced tomatoes (tomatoes, tomato juice, calcium chloride, citric acid), water, tomato paste (tomatoes, citric acid), onion, red bell pepper, dates, garlic, basil, parsley, oregano. 25oz jar - $11.95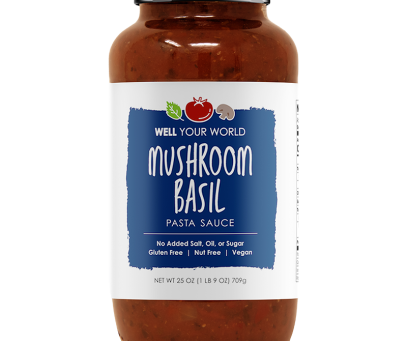 Mushroom Basil Pasta Sauce
Water, diced tomatoes (tomatoes, tomato juice, calcium chloride, citric acid), tomato paste (tomatoes, citric acid), onion, red bell pepper, mushrooms, figs, garlic, basil, parsley, black pepper. 25oz jar - $11.95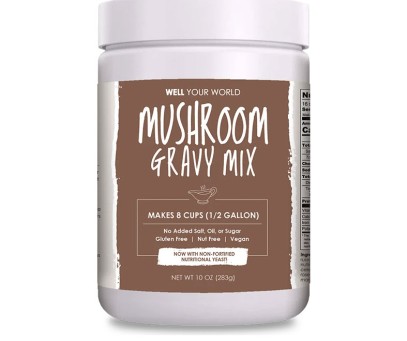 Mushroom Gravy Mix
Shiitake mushrooms, russet potatoes, non-fortified nutritional yeast, onion, celery, garlic, black pepper, rosemary, thyme, sage, marjoram, parsley. 10oz container - $13.95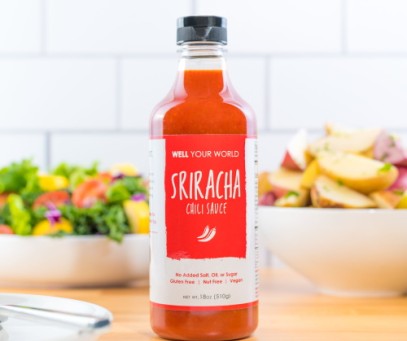 Sriracha Chili Sauce
Red jalapeños, Apple Cider Vinegar, Water, Dates, Garlic, Figs, Citric Acid, Cumin, Xanthan Gum & Spices. 18oz bottle - $10.95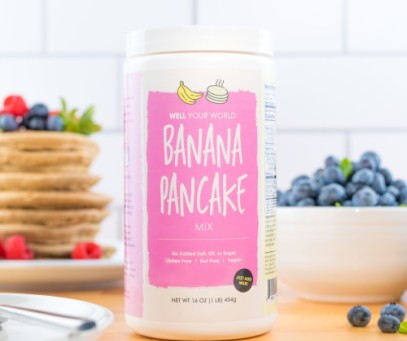 Banana Pancake Mix
Oat flour, banana, sodium-free baking powder (calcium carbonate, magnesium carbonate, glucono delta lactone, citric acid), dates, vanilla bean. 16oz container - $15.95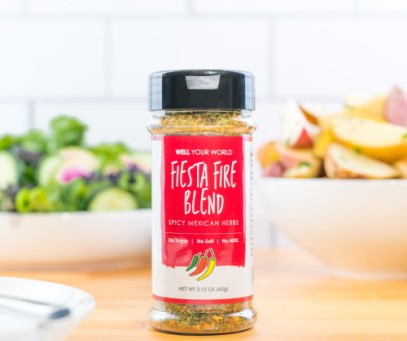 Fiesta Fire Blend
Herbs & spices, red chili pepper, garlic, lemon, onion, chipotle pepper. 2.12 container - $7.95