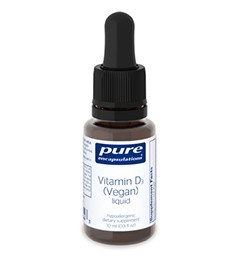 Pure Encapsulations Vitamin D3 (Vegan) liquid is derived from naturally occurring, sustainably harvested lichen. It is produced through a multistep process involving extraction, purification and concentration resulting in a vitamin D3 cholecalciferol with the same molecular structure and conformation cholecalciferol derived from lanolin or fish.
It is the only plant-derived source of vitamin D3 that has been accepted by the UK Vegan Society. Research indicates that optimal vitamin D serum levels offer support for bone, breast, prostate, cardiovascular, colon and immune health.
This bottle contains a total of 100,000 IU of D3 or a 100 day supply if 1000IU are used.