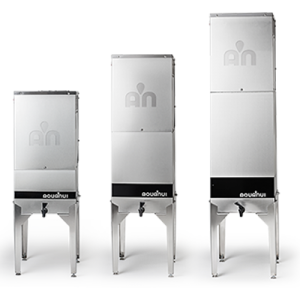 TrueNorth Health Center now offers AquaNui Water Distillers though our direct affiliation with the product manufacturer (Pure Water). Please use the following special TrueNorth Health Center link to visit the AquaNui website and purchase a distiller:
CLICK HERE TO LEARN MORE ABOUT OR PUCHASE AN AQUANUI WATER DISTILLER
To receive a 5% discount off your purchase, use the discount code 461127 at checkout.
A Patent Pending Water Distiller With Lots of Options
We designed AquaNui to be unlike any water distiller available for purchase. AquaNui comes in three production sizes. It's modular, so you can enhance AquaNui as your family or business grows. AquaNui is upgradeable — add a pump and you can distribute water throughout your home or workplace. Finally, AquaNui is compact. It has the narrowest profile and footprint of any premium water distiller we know of.

I'm incredibly proud of AquaNui. It saves a lot of space compared to other distillers, and it can be upgraded as your family grows." — Paul Meder, Director of Technical Services and Chief Designer, Pure & Secure
3 production sizes, 3 storage tank options
AquaNui is expandable as your family or workplace grows. Choose from 8, 10 and 12 gal./day production, and 5, 10 and 15 gal. storage tanks. We offer the largest storage tank in the market — for a price less than our competitors. Add extra storage tanks to boost your emergency reserves.
Compact and upgradeable
AquaNui is narrow. It occupies less room than any other distiller in its class. And, AquaNui is upgradeable. Add a pump to dispense water throughout your home or workplace. AquaNui is made in the USA from 100% American stainless steel. And it features a simple, two-button operation.
Cool to the touch
We placed the boiling tanks on our automatic AquaNui machines inside a separate, stainless steel shell. So, other than the AquaNui CT countertop unit, AquaNui 8G, 10G and 12G distillers run cool to the touch. It's a feature most of our competitors have ignored. But not the makers of AquaNui. AquaNui patent pending, premium water distillers were designed with much thought and care. You'll have no need to worry about children's hands or your pet's paws getting scalded.
The most popular option is to upgrade by adding a pump. Next comes adding an extra emergency storage tank." — Courtney Meder, Account Executive, Pure & Secure
Easy to clean and maintain
AquaNui boiling tanks are removable, which makes them easy to clean and service.
AquaNui storage tanks are steam sterilizable*, which kills bacteria and viruses.
*Steam sterilization is a special cleaning operation that uses the steam generated by AquaNui to sterilize the storage tanks. Steam sterilization kills harmful bacteria and viruses, but it only works with stainless steel equipment like ours. We recommend steam sterilization at setup and once a year thereafter.
AquaNui Automatic Distillers — Features and Benefits
Choice of 3, 8, 10 and 12 gal./day units
Choice of 5, 10 and 15 gal. storage tanks
Expandable as your family grows
Narrow design, small footprint
Upgradable by adding a pump
Made in the USA
Removable boiling tank
Two-button operation
Steam sterilizable
Cool to the touch
Includes stand with adjustable leveling feet
15-year limited warranty — 2-year full warranty on electrical parts.