You may register for upcoming webinars or listen to recordings from previous webinars here. 
Upcoming Webinars
There are currently no upcoming webinars.
Past Webinars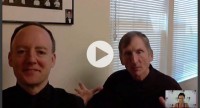 In this interview, Chef AJ talks with the co-authors of The Pleasure Trap Audio Book, Dr. Alan Goldhamer and Dr. Doug Lisle, about the release of their book on audio.
Presenter(s):
Dr. Alan Goldhamer and Dr. Doug Lisle