Whether you've been a patient at TrueNorth Health Center and want to maintain a good diet or you're seeking a simple way to get truly healthy food, look no further than TrueNorth Health Deli. Based at the TrueNorth Health Center in Santa Rosa, CA, Chef Ramses Bravo and his talented staff prepare weekly meals that can be picked up anytime at the center! Our goal is to provide convenient, affordable, and health promoting foods.
What our customers say
"This was a tasty dish and I did not miss the usual cheese that is packed between "regular Lasagna." We had the rest for lunch the next day and I liked it hot or cold. Nice large serving for $8."
"This pie is delicious. The crust is crispy and holds the pie together very nicely. The filling is creamy, subtle and sweet. I ate it cold and it was great. Could probably also be eaten frozen. The topping is soft and the coconut flakes really give it a great flavor. Mmmmmm..."
"Our plant-based household loves this substantial combo item; I order it every time. My muscle-man loves it for the caloric density and fresh herbs."
Meet the Chef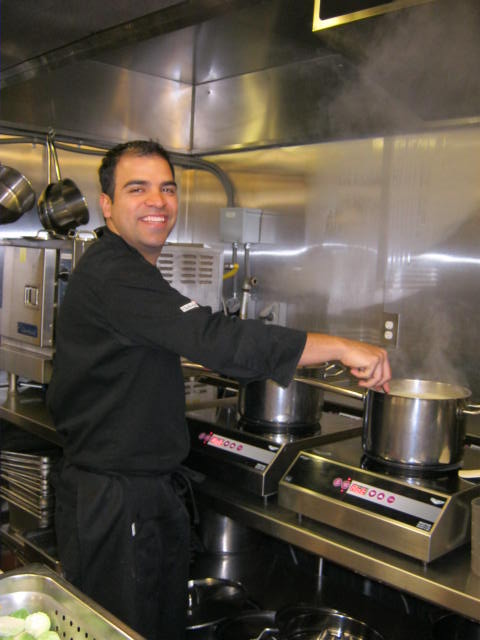 In September 2007, Ramses Bravo became Executive Chef for TrueNorth Health. "I didn't really know what to expect. The concept of cooking without salt, sugar, oil and flour was very strange and foreign to me." He has been creating and developing delicious vegan cuisine for years now, using simple flavors and textures which complement each other. Although this is a challenging mission he enjoys and embraces every day at TrueNorth. "My love for eating and cooking hasn't changed. It has simply been pointed in a much healthier direction and I'm thankful for it."
The Food
We use only whole natural foods including fresh fruits and vegetables, whole grains and beans and raw nuts and seeds all prepared in our clean, modern commercial kitchen. We avoid all animal products including meat, fish, fowl, eggs and dairy products, as well as added oil, salt or sugar. With the exception of a few carefully labeled exceptions we also avoid the use of wheat, rye, peanuts and all added chemical preservatives, coloring, MSG, etc.
Adjusting to the Diet
Allowing the body to adjust to a truly health promoting diet can be a challenge. Most people are addicted to the artificial stimulation of highly processed, calorically dense, heavily oiled and salted foods. Adjusting to a healthier way of eating is a transition that can takes weeks or months. The most difficult challenge for most is adjusting to the dramatically reduced quantities of salt. Our goal is to limit sodium to less than 1 mg of sodium per calorie and we do not add any salt to our foods. For more about the TrueNorth health diet,
The TrueNorth Kitchen is NOW the TrueNorth Deli
You can now come and get healthy and delicious food EVERYDAY at TrueNorth. We will keep our refrigerators stocked with many of your favorite entrees, soups, salads, vegetable dishes and of course TrueNorth-approved desserts. In addition chef Bravo will be adding many new items to the menu. We will continue to email a newsletter to let you know what our featured items for the week are, or you can call the front desk to find out what goodies we have available.