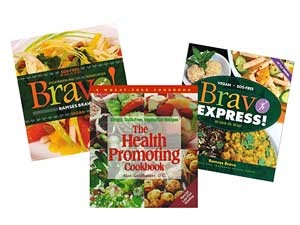 In this package you'll receive 3 cookbooks:
The first 2 cookbooks were created by TrueNorth's Head Chef - Ramses Bravo. Bravo Express! is designed to support you with very easy-to-follow recipes. Only a few ingredients are required to make each of the recipes in this cookbook!
All recipes avoid the use of animal products, including meat, fish, fowl, eggs and dairy products, as well as the use of added salt, oil and sugar. All of the recipes use readily available ingredients derived exclusively from whole natural foods, such as fresh fruits and vegetables, whole grains, beans, raw nuts and seeds.
This package is $48.68